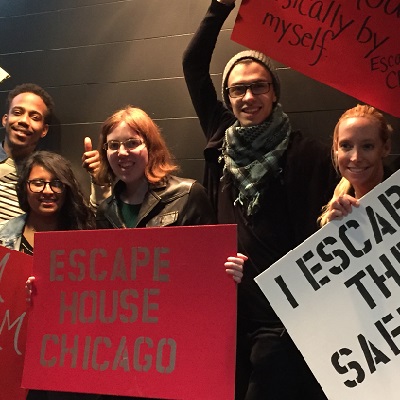 EscapeHouse is a fun Family Activity!
Looking for a fun family outing that combines family bonding with mental and physical agility? Our escape rooms provide a unique venue for spending family time together, along with the opportunity to work together as a team. Teens and young adults can participate in the scavenger hunt for clues and help solve the room escape puzzles. Strong observation and thinking skills can help the family escape!

*Note that regular time slots are reserved for ages 14 and up, but read on for more information on opportunities for the younger players on your team. For children under 14, we recommend booking family escape room missions.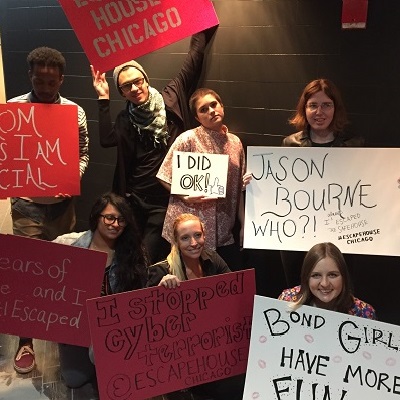 Family Escape Room Missions For Ages 8 and Up
Although EscapeHouse Chicago's regular escape room experiences are recommended for ages 14 and up, we welcome families with younger players (a.k.a., Junior Spies) to play during designated times that we call Family Missions. This is the perfect escape room experience for families! We recommend booking Escape the White House for families or groups with younger children!

Games on Sundays from 11am - 3pm and Tuesdays from 4pm - 8pm are set aside to allow players 8 and up to join in the fun with their parents and siblings. The family missions take place in a safe and fun environment. While the escape room experiences at EscapeHouse Chicago are not scary, they're sure to be exciting for the Junior Spies in your family!
When making a reservation, look for and reserve a "Family Mission" time slot.
If you would like to book outside the designated Family Mission time slots, it is possible to purchase all ten slots for a private family escape room experience. Please call (312) 981-6633 for this option.

*Important Note: Players under the age of 18 must always be accompanied by a paying adult.
*Children ages 8-13 must be booked for Family Missions
Safe House
White House
IMPORTANT NOTE:
Players under the age of 18 must always be accompanied by a paying adult.